About Vrindavan Tour from Delhi
Discover Vrindavan from Delhi with Tyagi Travels. Experience the joy of Delhi to Vrindavan travel with our convenient day trips and weekend getaways.
Discover the enchanting temples, including the revered Banke Bihari Temple and Radha Raman Temple, and witness the serene beauty of the Yamuna River.
Indulge in a cultural excursion, exploring the rich heritage and history of Vrindavan. Our Delhi to Vrindavan pilgrimage packages. Let us be your guide to the holy city of Vrindavan.
Book your Delhi to Vrindavan tour now!
Route from Delhi to Vrindavan
One of the best route for Delhi to Agra Trip
Delhi — Noida — Dankaur — Hamidpur — Sikanderpur — Javara — Vrindavan (Approx. 183 KM)
Delhi — Gurgaon — Manesar — Dholagarh — Hodal — Kosi Kalan — Vrindavan (Approx. 191 KM)
Top Tourist Attractions in Vrindavan
Vrindavan, a small town in the Indian state of Uttar Pradesh, is renowned for its spiritual and cultural significance. It attracts countless visitors every year who seek solace and enlightenment. Here are the top tourist attractions in Vrindavan:
1. ISKCON Vrindavan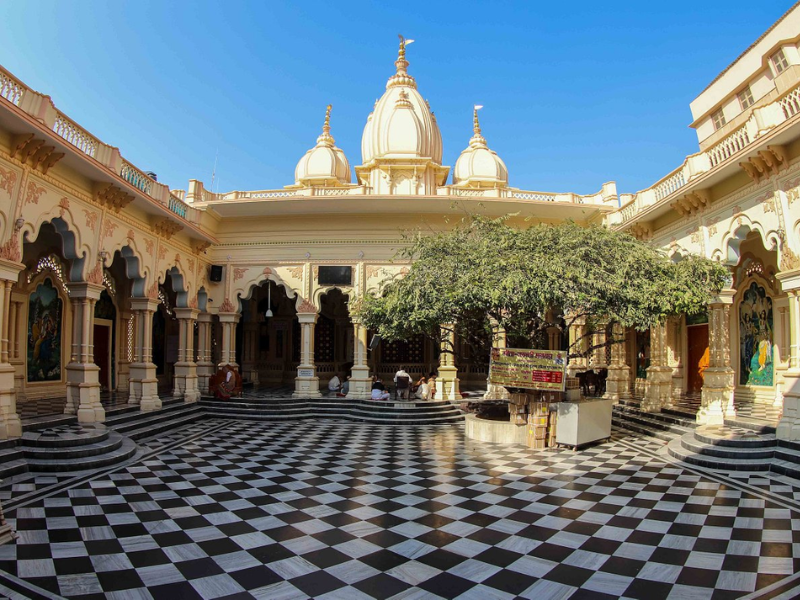 The International Society for Krishna Consciousness (ISKCON) temple in Vrindavan is a mesmerizing blend of modern architecture and spiritual vibrancy. Dedicated to Lord Krishna, this temple complex showcases intricate carvings, colorful murals, and captivating performances of devotional music and dance.
2. Prem Mandir – Shyama Shyam Dham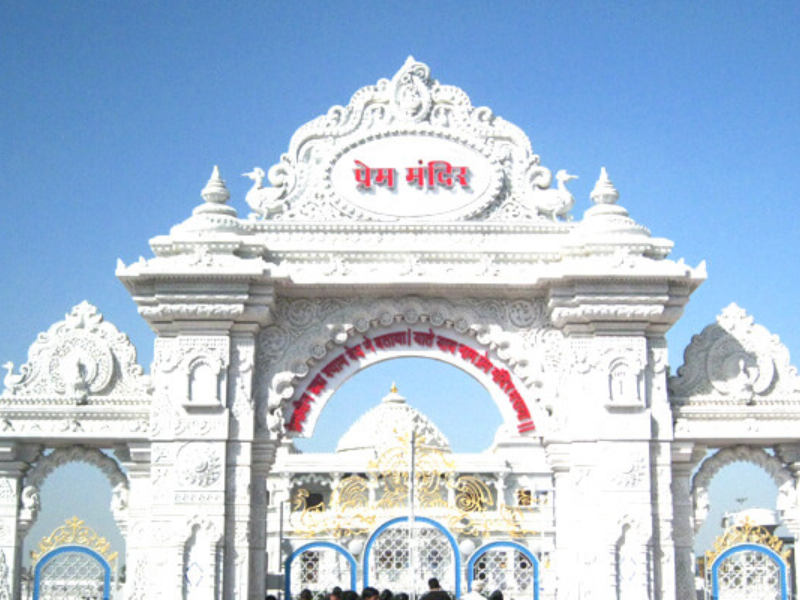 Prem Mandir, also known as Shyama Shyam Dham, is an architectural marvel that showcases the eternal love between Radha and Krishna. The temple is adorned with exquisite marble sculptures depicting various episodes from the lives of Radha and Krishna. The grandeur and serenity of Prem Mandir make it a must-visit attraction in Vrindavan.
3. Akshaya Patra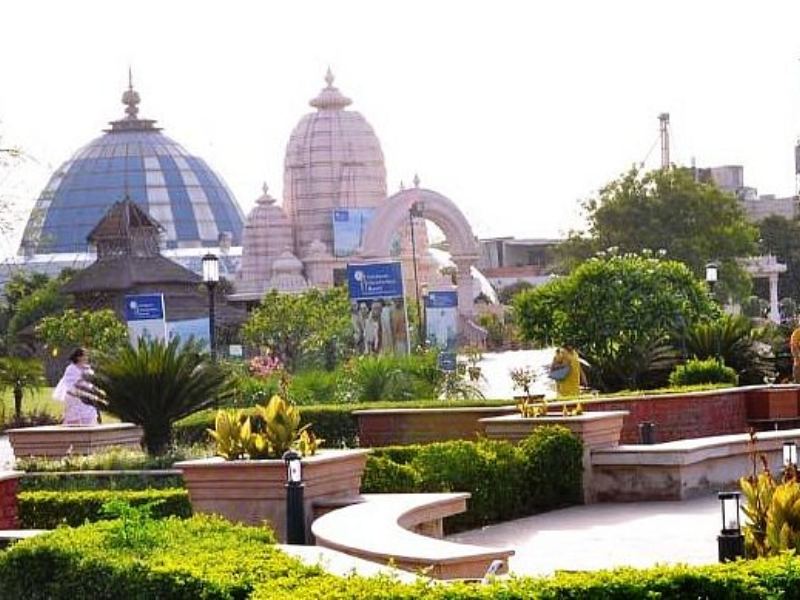 Akshaya Patra is a unique temple complex in Vrindavan that serves as a massive kitchen. It is known for its charitable initiative of providing free meals to thousands of pilgrims and residents every day. Visitors can witness the large-scale cooking process and get a glimpse of the selfless service being carried out here.
4. Banke Bihari Temple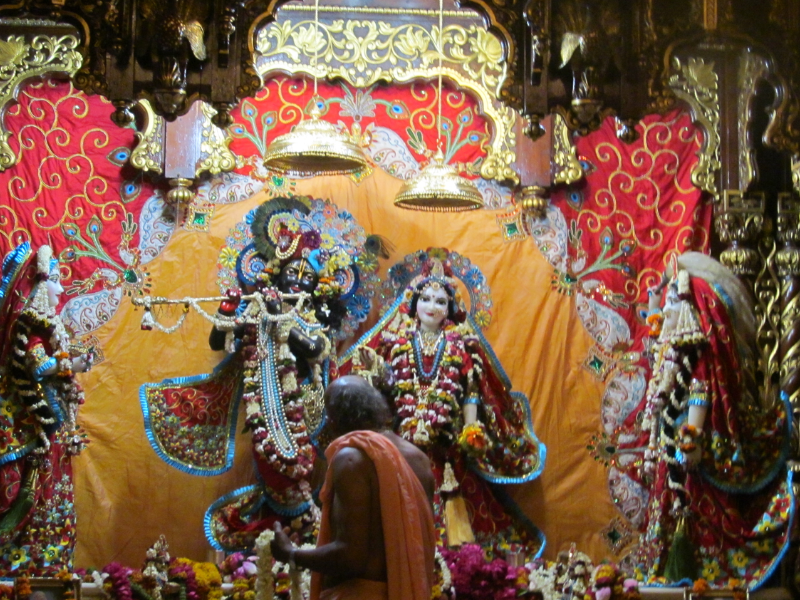 The Banke Bihari Temple is one of the most revered and popular temples in Vrindavan. Dedicated to Lord Krishna in his "Banke Bihari" form, the temple is known for its unique tradition of the deity's "Phool Bangla" (flower palaces) and the lively "Jhulan Yatra" (swing festival). The temple's ambiance is filled with devotion and a sense of spiritual bliss.
5. Mata Vaishno Devi Dham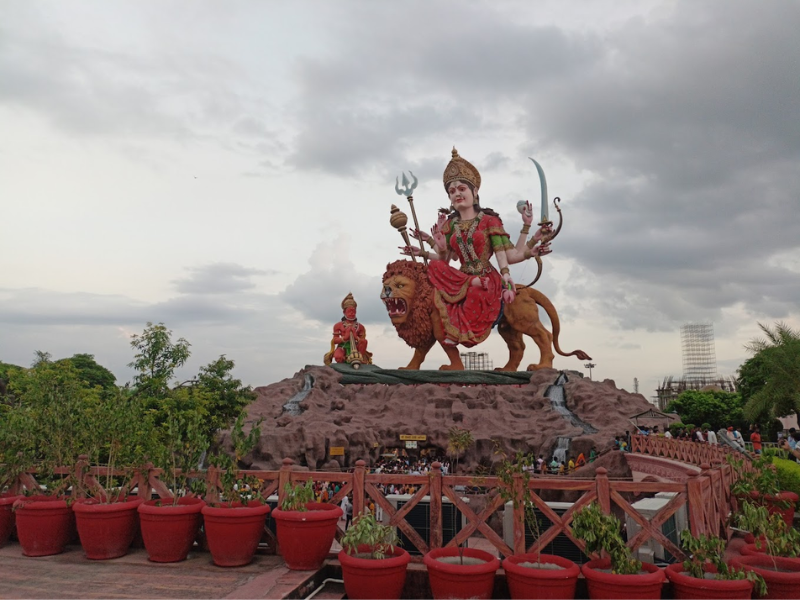 Located within the premises of the Shri Bankey Bihari Temple, Mata Vaishno Devi Dham is a divine abode of the Hindu goddess Vaishno Devi. This shrine replicates the renowned Vaishno Devi temple in Jammu and Kashmir, allowing devotees to experience the essence of the original pilgrimage without traveling to the northernmost part of India.
Top 10 Things to Do in Vrindavan
Visit Shri Banke Bihari Temple: This famous temple dedicated to Lord Krishna is a must-visit for devotees. Experience the divine atmosphere and participate in the mesmerizing aarti (devotional ceremony).
Explore ISKCON Temple: The International Society for Krishna Consciousness (ISKCON) temple in Vrindavan is a spiritual and architectural marvel. Admire the beautiful deity of Lord Krishna and immerse yourself in the spiritual ambiance.
Take a Boat Ride on Yamuna River: Enjoy a serene boat ride on the Yamuna River and soak in the peaceful surroundings. It offers a unique perspective of Vrindavan's ghats (steps leading to the river) and temples.
Visit Prem Mandir: This stunning temple complex showcases intricate marble architecture depicting the life of Lord Krishna. Witness the captivating light and sound show in the evening for a magical experience.
Explore Radha Raman Temple: Pay homage to Lord Krishna at Radha Raman Temple, known for its ancient deity of Krishna and its architectural beauty. The temple holds immense significance for Krishna devotees.
Discover Kesi Ghat: Kesi Ghat is one of the major ghats in Vrindavan, where Lord Krishna is believed to have killed the demon Kesi. Witness the vibrant rituals, take a dip in the holy river, and enjoy the serene atmosphere.
Visit Rangaji Temple: This massive temple complex dedicated to Lord Ranganatha (an incarnation of Lord Vishnu) showcases exquisite South Indian architecture. Explore the temple's intricate carvings and the beautiful courtyard.
Attend Krishna Bhajan and Kirtan: Immerse yourself in the devotional atmosphere of Vrindavan by attending Krishna bhajan (devotional songs) and kirtan (musical chants). Many temples and ashrams organize these soul-stirring sessions.
Explore the Yamuna Bazaar: Wander through the bustling Yamuna Bazaar, known for its colorful markets offering traditional handicrafts, clothing, and devotional items. Indulge in shopping for souvenirs and local artifacts.
Visit Nidhivan: Nidhivan is a sacred forest where Lord Krishna is believed to perform his nightly Raas Leela (divine dance). Experience the mystical aura of the forest and witness the evening aarti at the temple within.
Top Points about Weather and Climate in Vrindavan
✅ Summers (April to June): Summers in Vrindavan are hot and dry, with temperatures ranging from 30°C (86°F) to 45°C (113°F). May and June are the hottest months, and heatwaves are common during this time. It is advisable to carry light and breathable clothing, use sunscreen, and stay hydrated.
✅ Monsoons (July to September): Vrindavan receives the majority of its rainfall during the monsoon season. The monsoon brings relief from the scorching heat and transforms the surroundings into lush greenery. Rainfall is moderate to heavy, and occasional thunderstorms occur. It is recommended to carry an umbrella or raincoat during this season.
✅ Post-Monsoon (October to November): The post-monsoon season in Vrindavan sees a transition from rainy to cooler weather. Temperatures begin to decrease, ranging from 25°C (77°F) to 35°C (95°F). The weather is generally pleasant during this time, making it an ideal period for outdoor activities.
✅ Winters (December to February): Winters in Vrindavan are mild and pleasant, with temperatures ranging from 8°C (46°F) to 20°C (68°F). December and January are the coldest months, and foggy conditions are common, especially during early mornings. It is advisable to carry some warm clothing during this time.
Overall, Vrindavan experiences a predominantly dry climate throughout the year, with a brief rainy season. The best time to visit Vrindavan is during the winter and post-monsoon seasons (October to March), when the weather is comfortable for outdoor sightseeing and temple visits.
Transportation Options for Delhi to Vrindavan
There are several transportation options available for traveling from Delhi to Vrindavan. Here are the common modes of transportation:
✅ Private Car/Taxi: You can hire a private car or taxi from Delhi to Vrindavan. It offers convenience and flexibility, allowing you to travel at your own pace.
✅ Self-Drive: If you prefer driving yourself, you can rent a car in Delhi and drive to Vrindavan. The distance between the two cities is approximately 150 kilometers, and the journey takes around 3 to 4 hours, depending on the traffic conditions.
✅ By Train: There are regular train services from Delhi to Mathura, which is the nearest railway station to Vrindavan. From Mathura, you can take a short taxi or auto-rickshaw ride to reach Vrindavan. The train journey takes around 2 to 3 hours, depending on the train you choose.
✅ By Bus: State Transport Buses: Uttar Pradesh State Road Transport Corporation (UPSRTC) operates regular bus services from Delhi to Vrindavan. You can board a bus from Delhi's ISBT (Inter-State Bus Terminus) to reach Vrindavan. The travel time can vary between 4 to 6 hours, depending on the traffic and the type of bus service.
It is advisable to check the availability and timings of the transportation modes beforehand, especially during peak travel seasons. Additionally, considering the traffic conditions in Delhi, it is recommended to plan your travel accordingly to avoid rush hours and ensure a smooth journey to Vrindavan.
You can also use this Map when you going to Vrindavan via Bus, Car & Train
Recommended Travel options for Delhi to Vrindavan Trip
Organized tour packages by Tyagi Travels. Get Transportation, Sightseeing, and Guide. Hassle-free way to explore Vrindavan's attractions with a well-planned itinerary.
You can Hire a Tempo Traveller on Rent from Delhi. Tyagi Travels have many options according to People group size.
Contact us today to book your rental vehicle for a memorable trip.
Various Accommodation options available in Vrindavan for Travelers coming from Delhi
Vrindavan offers a range of accommodation options to cater to the needs of travelers coming from Delhi. Here are some common types of accommodations available in Vrindavan:
✅ Hotels: Vrindavan has a variety of hotels ranging from budget to luxury options. These hotels offer comfortable rooms, amenities, and services such as restaurants, Wi-Fi, and 24-hour front desk assistance. Some popular hotels in Vrindavan include Nidhivan Sarovar Portico, Hotel The Royal Bharti, and Hotel Kridha Residency.
✅ Guesthouses: There are numerous guesthouses in Vrindavan that provide affordable accommodation with basic amenities. These guesthouses are often located near the major temples and offer a homely atmosphere. Some well-known guesthouses in Vrindavan include MVT Guesthouse, Gopinath Bhavan Guesthouse, and Radha Madhav Dham Guesthouse.
✅ Ashrams: Vrindavan is renowned for its spiritual and ashram culture. Many ashrams in Vrindavan provide accommodation for pilgrims and spiritual seekers. These ashrams offer simple rooms, vegetarian meals, and a serene environment for meditation and spiritual activities. ISKCON Guesthouse, Prem Mandir Ashram, and Radha Kund Ashram are popular choices for ashram accommodation in Vrindavan.
✅ Dharamshalas: Dharamshalas or pilgrim rest houses are economical options for accommodation in Vrindavan. These facilities are often managed by religious organizations and provide basic rooms at affordable rates. Some well-known dharamshalas in Vrindavan include Banke Bihari Temple Dharamshala, Radha Raman Dharamshala, and Radha Damodar Dharamshala.
✅ Resorts and Retreats: Vrindavan also offers resorts and retreats for travelers seeking a more luxurious and leisurely stay. These properties provide spacious rooms, modern amenities, recreational facilities, and often have beautiful gardens or green spaces. Ananda Krishna Van Resort, The Vrindavan Hotel, and Nidhivan Sarovar Portico Resort are some examples of resorts in Vrindavan.
Local Food and Cuisine in Vrindavan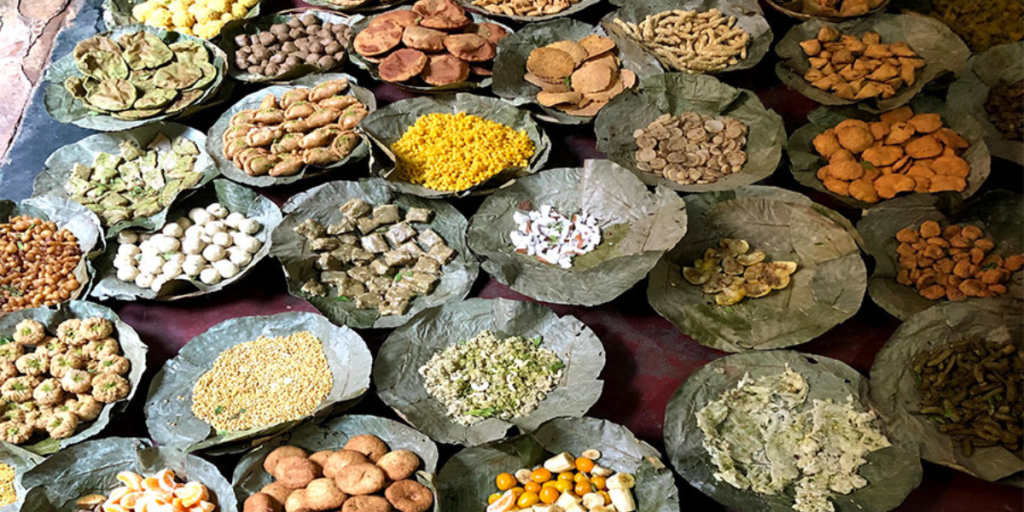 Here are some must-try local specialties in Vrindavan:
✅ Chappan Bhog: Chappan Bhog is a famous offering to Lord Krishna and is a platter consisting of 56 different food items. It includes a variety of sweets, snacks, curries, and desserts prepared with devotion and offered to the deities. You can savor this special prasad (offering) in some temples or at specific sweet shops in Vrindavan.
✅ Peda: Vrindavan is renowned for its delicious Pedas, a sweet made from condensed milk, sugar, and flavored with cardamom or saffron. The Pedas of Vrindavan are famous for their rich taste and melt-in-your-mouth texture. You can find various varieties of Pedas in local sweet shops.
✅ Kachori: Kachori is a popular snack in Vrindavan. It is a deep-fried pastry filled with a spicy mixture of lentils or potatoes. The Kachoris in Vrindavan are often served with tangy chutneys and make for a tasty and satisfying snack.
✅ Mathura Peda: Mathura, a nearby city to Vrindavan, is famous for its Mathura Peda. These sweet delicacies are made from khoya (reduced milk), sugar, and flavored with cardamom. Mathura Pedas have a unique taste and are widely enjoyed by visitors.
✅ Rajbhog: Rajbhog is a larger version of the popular sweet Rasgulla. It is a soft and spongy cottage cheese ball soaked in saffron-infused sugar syrup. Rajbhog is a favorite sweet during festivals and is often offered to Lord Krishna in the temples of Vrindavan.
✅ Thali Meals: Many local restaurants and eateries in Vrindavan offer traditional Thali meals. These meals consist of a variety of vegetarian dishes served on a large plate or banana leaf. Thalis typically include items like dal (lentils), sabzi (curries), roti (bread), rice, yogurt, papad, and desserts. It's a wholesome and flavorful way to experience the local cuisine.
✅ Lassi: Vrindavan is known for its refreshing Lassi, a popular yogurt-based drink. It is made by blending yogurt, sugar, and sometimes flavored with fruits like mango or rose syrup. Lassi is a perfect way to cool down and quench your thirst while exploring the city.
✅ Poori-Aloo: Poori (deep-fried bread) with Aloo (spiced potatoes) is a classic and widely loved combination in Vrindavan. It is often served as a breakfast or lunch item in local eateries and is a satisfying and flavorful dish.
Some Travel Tips and Hacks for Traveling from Delhi to Vrindavan
✅ Plan your visit during weekdays: Vrindavan can get crowded during weekends and festivals, so consider planning your visit on weekdays to avoid heavy crowds and long queues at temples.
✅ Check the weather forecast: Before your trip, check the weather forecast for Vrindavan to pack appropriate clothing and plan your activities accordingly.
✅ Start early: If you are traveling by road, it's advisable to start your journey early in the morning to avoid heavy traffic in Delhi and reach Vrindavan before it gets too crowded.
✅ Carry essentials: Keep a small bag with essentials such as water bottles, snacks, sunscreen, hat, and comfortable footwear, especially if you plan to explore the temples and walk around.
✅ Dress appropriately: As Vrindavan is a holy city, it's recommended to dress modestly when visiting temples and religious sites. Cover your shoulders and legs, and remove your shoes before entering the temple premises.
✅ Hire a local guide: To enhance your experience and learn more about the history and significance of the temples in Vrindavan, consider hiring a local guide who can provide insights and help navigate through the city.
✅ Be respectful: Vrindavan holds immense religious and cultural significance. It's important to be respectful of the local customs, traditions, and sentiments. Follow the temple rules and maintain decorum while visiting religious sites.
✅ Try local cuisine: Don't miss the opportunity to indulge in the local food and sweets of Vrindavan. Try dishes like Peda, Kachori, and Lassi to savor the flavors of the region.
✅ Stay hydrated: Carry a water bottle and stay hydrated, especially during summers. Drink purified or bottled water to avoid any health issues.
✅ Follow safety precautions: Take care of your belongings and valuables while traveling. Keep a copy of your identification documents and emergency contact numbers handy. It's always good to be cautious and aware of your surroundings.
✅ Respect the environment: Vrindavan is a place of natural beauty and spiritual significance. Help in maintaining its cleanliness by not littering and disposing of waste properly. Respect the natural surroundings and avoid any harm to plants or animals.
FAQs about Delhi and Vrindavan Trip
Q. How far is Vrindavan from Delhi?
A. Vrindavan is located approximately 160 kilometers (99 miles) southeast of Delhi.
Q. What is the best time to visit Vrindavan?
A. The best time to visit Vrindavan is during the winter months of October to March when the weather is pleasant. It is advisable to avoid visiting during the peak summer months (April to June) due to the hot and humid conditions.
Q. How long does it take to travel from Delhi to Vrindavan?
A. The travel time from Delhi to Vrindavan can vary depending on the mode of transportation chosen. By road, it takes approximately 3 to 4 hours, while by train, it takes around 2 to 3 hours.
Q. Are there any accommodation options available in Vrindavan?
A. Yes, Vrindavan offers a range of accommodation options including hotels, guesthouses, ashrams, and dharamshalas. Visitors can choose from budget to luxury accommodations based on their preferences.
Q. What are the major attractions to visit in Vrindavan?
A. Some of the major attractions in Vrindavan include Shri Banke Bihari Temple, ISKCON Temple, Prem Mandir, Radha Raman Temple, Kesi Ghat, and Nidhivan, among others.