About Ajmer Tour from Delhi
Start a Magical Journey from Delhi to Ajmer with With Tyagi Travels. Explore Ajmer's thriving markets, spiritual allure, and rich cultural legacy. View the majestic Taragarh Fort and the well-known Ajmer Sharif Dargah. Take leisurely boat excursions on Lake Ana Sagar and get lost in the vibrant bazaar of Ajmer.
Affordable customized Ajmer travel packages are available from Delhi with Tyagi Travels. Set out on a fantastic journey to Ajmer, where you will find history, spirituality, and breathtaking scenery.
Plan your travel from Delhi to Ajmer right away!
Route from Delhi to Ajmer
One of the best route for Delhi to Agra Trip
Delhi — Gurgaon — Manesar — Dharuhera — Behror — Neemrana — Jaipur — Dudu — Kishangarh — Ajmer (Approx. 391 KM)
Top 10 Things to Do in Ajmer
Ajmer Sharif Dargah: Visit this renowned holy shrine dedicated to the Sufi saint, Moinuddin Chishti, and experience the spiritual atmosphere. Offering a 'phoolon ki chaadar' and seeking blessings for your loved ones is a popular activity here.
Ana Sagar Lake: Enjoy the beautiful views of the city and indulge in boating at this artificial lake. The lake is a popular spot for relaxation and taking in the serene surroundings.
Adhai Din Ka Jhonpra: Explore this famous mosque that showcases a perfect fusion of Indo-Islamic architecture and is adorned with calligraphic inscriptions.
Akbar Palace and Museum: Visit this former palace of Emperor Akbar, which now houses a government museum displaying various aspects of the Mughal lifestyle through artifacts, sculptures, and paintings.
Jain Temples: Visit the serene Jain temples in Ajmer, such as Soniji Ki Nasiyan and Nareli Jain Temple, which are known for their beautiful architecture and intricate carvings.
Daulat Bagh: Take a peaceful stroll in this beautiful garden located near Ana Sagar Lake, and enjoy the lush green surroundings.
Taragarh Fort: Explore this ancient fort built by the Chauhan dynasty, which offers panoramic views of the city from its location atop the Aravalli Ranges.
Foy Sagar Lake: Visit this picturesque lake built in 1892 and admire the beautiful sunset while enjoying the captivating views of the Aravalli Ranges.
Local Bazaars: Shop for handicrafts, embroidered juttis, paintings, stone sculptures, and more at the local markets in Ajmer, such as Nalla Bazaar, Dargah Bazaar, and Mahila Mandi.
Pushkar: Just a short drive from Ajmer, visit the charming town of Pushkar, known for its sacred lake, the Brahma Temple, and the annual Pushkar Camel Fair.
Top Points about Weather and Climate in Ajmer
Ajmer is located in the northern hemisphere and experiences a very hot temperature during the summer months. The average annual temperature in Ajmer is 25.0 °C | 77.0 °F, with the highest temperature hovering around 40°C and the lowest temperature around 20°C. The annual rainfall in Ajmer is 473 mm | 18.6 inches.
The best time to visit Ajmer is during the months of January and December when the weather is pleasant with average temperatures between 20 degrees Celsius.
Transportation Options for Delhi to Ajmer
There are several transportation options available for traveling from Delhi to Ajmer. Here are the common modes of transportation:
✅ Sleeper Buses: There are numerous sleeper buses operated by private bus operators and state-run RSRTC buses that connect Delhi to Ajmer. The journey takes approximately 6 to 8 hours.
✅ Trains: Indian Railways offers multiple train options between Delhi and Ajmer. The travel time varies depending on the train type and can range from 6 to 8 hours. Some popular trains on this route are Ajmer Shatabdi, Delhi Sarai Rohilla-Ajmer Express, and Ashram Express.
✅ Private Car/Taxi: You can also hire a private car or taxi to travel from Delhi to Ajmer. The distance between the two cities is approximately 400 km, and the journey takes around 7 to 8 hours via NH48.
✅ Flights: Although there is no direct flight between Delhi and Ajmer, you can fly to the nearest airport, Jaipur International Airport, which is about 135 km away from Ajmer. From Jaipur, you can take a taxi or bus to reach Ajmer.
It is advisable to check the availability and timings of the transportation modes beforehand, especially during peak travel seasons. Additionally, considering the traffic conditions in Delhi, it is recommended to plan your travel accordingly to avoid rush hours and ensure a smooth journey to Vrindavan.
You can also use this Map when you going Agra via Bus, Car & Train
Recommended Travel options for Delhi to Ajmer Trip
Organized tour packages by Tyagi Travels. Get Transportation, Sightseeing, and Guide. Hassle-free way to explore Ajmer 's attractions with a well-planned itinerary.
You can Hire a Tempo Traveller on Rent from Delhi. Tyagi Travels have many options according to People group size.
Contact us today to book your rental vehicle for a memorable trip.
Various Accommodation options available in Ajmer for Travelers coming from Delhi
When traveling from Delhi to Ajmer, there are various accommodation options available to cater to the needs of travelers. Here are some options you can consider:
✅ Hotels and Resorts: Ajmer offers a wide range of hotels and resorts catering to different budgets and preferences. From budget-friendly hotels to luxury resorts, you can find accommodations with modern amenities and facilities. Some popular hotels and resorts in Ajmer include The Gateway Resort Pushkar Bypass, Hotel Chitvan, and Hotel Merwara Estate.
✅ Guesthouses and Homestays: For a more personalized experience, you can opt for guesthouses or homestays in Ajmer. These provide a chance to stay with local families, offering a glimpse into the local culture and traditions. It can be a great way to interact with locals and immerse yourself in the charm of Ajmer. Some well-known guesthouses and homestays in Ajmer include Padmini Heritage Resort, Hotel Jannat Palace, and Ana Sagar Lake Guest House.
✅ Dharamshalas: Ajmer has several dharamshalas (pilgrim guesthouses) that provide affordable accommodation options for pilgrims and spiritual seekers. These guesthouses are often operated by religious organizations and offer basic amenities. Some well-known dharamshalas in Ajmer are Pushkar Rajwara Dharamshala, Ajmer Jain Dharamshala, and Digambar Jain Dharamshala.
✅ Online Rental Platforms: Another option is to explore online rental platforms that offer vacation rentals, serviced apartments, or private homes in Ajmer. These platforms allow you to choose accommodations based on your preferences and budget. This option can provide more flexibility and privacy for your stay in Ajmer.
Local Food and Cuisine in Ajmer 
Ajmer, a city in Rajasthan, offers a diverse and flavorful culinary experience. Influenced by the region's rich Rajasthani cuisine, here are some local food and culinary highlights to explore in Ajmer: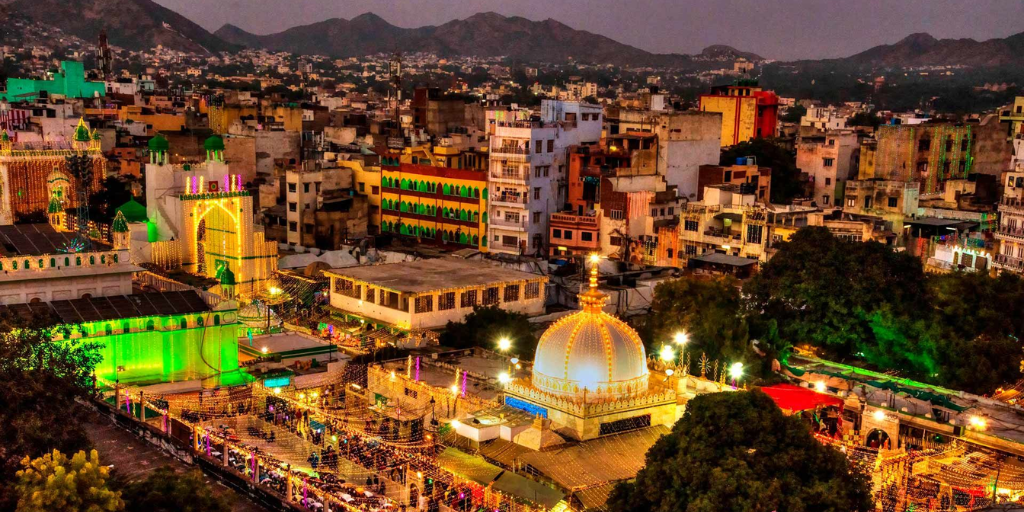 Here are some must-try local specialties in Ajmer:
✅ Dal Baati Churma: One of the most popular Rajasthani dishes, Dal Baati Churma consists of roasted dough balls (baati) served with lentil curry (dal) and a sweet crumbled wheat dessert (churma). This hearty and flavorful dish is a must-try in Ajmer.
✅ Laal Maas: Laal Maas is a fiery and delicious Rajasthani meat curry, typically made with mutton or lamb. The curry gets its rich red color and spiciness from a combination of red chili paste and various aromatic spices. It is best enjoyed with Indian bread or rice.
✅ Pyaaz Kachori: Pyaaz Kachori is a popular savory snack in Ajmer. It consists of deep-fried pastries stuffed with a mixture of seasoned onions and spices. These crispy and flavorful kachoris are often served with chutney or yogurt.
✅ Sohan Halwa: Ajmer is famous for its Sohan Halwa, a rich and dense sweet made with semolina, ghee (clarified butter), sugar, and dry fruits. This delectable dessert has a unique texture and is known for its melt-in-your-mouth experience.
✅ Mawa Kachori: Mawa Kachori is a unique and indulgent sweet dish that originated in Ajmer. It is a deep-fried pastry filled with a sweet mixture of mawa (milk solids), sugar, and nuts. This sweet treat is a favorite among locals and visitors alike.
✅ Mirchi Vada: Mirchi Vada is a spicy street food snack that features large green chili peppers stuffed with a savory potato filling. The stuffed chilies are then coated in a gram flour batter and deep-fried until crispy. It is often served with chutney or yogurt.
✅ Gatte ki Sabzi: Gatte ki Sabzi is a traditional Rajasthani dish made with gram flour dumplings cooked in a yogurt-based curry. The dumplings are spiced with a blend of aromatic spices, making it a flavorful and comforting dish.
Some Travel Tips and Hacks for Traveling from Delhi to Ajmer 
Traveling from Delhi to Ajmer can be an exciting experience. To make your journey smoother and more enjoyable, here are some travel tips and hacks:
✅ Plan your itinerary: Before you embark on your trip, plan your itinerary and research the attractions and places you want to visit in Ajmer. This will help you make the most of your time and ensure you don't miss out on any must-see locations.
✅ Choose the right mode of transportation: Consider the different transportation options available, such as trains, buses, or private cars, and choose the one that suits your preferences and budget. Book your tickets in advance to secure your seats and avail of any discounts.
✅ Pack essentials wisely: Pack light and carry only the essentials for your trip. Check the weather forecast for Ajmer and pack accordingly. Don't forget to carry any necessary documents, such as identification cards, tickets, and hotel reservations.
✅ Stay hydrated and carry snacks: During the journey, it's important to stay hydrated, especially if you're traveling during the summer months. Carry a refillable water bottle and pack some snacks to keep you energized and satiated throughout the trip.
✅ Be mindful of local customs: Ajmer is a city with rich cultural and religious significance. Respect the local customs and traditions. Dress modestly, especially when visiting religious sites, and be mindful of local customs and practices.
✅ Bargain while shopping: Ajmer is known for its bustling markets and shopping opportunities. If you plan to indulge in some retail therapy, don't forget to bargain and negotiate prices. It's common practice in local markets and can help you get better deals.
✅ Explore local cuisine: Ajmer has a diverse culinary scene. Don't miss the chance to savor the local cuisine and try regional delicacies. Visit local eateries and street food stalls to experience the authentic flavors of Ajmer.
✅ Carry sufficient cash: While many establishments in Ajmer accept card payments, it's advisable to carry sufficient cash, especially for smaller vendors and local markets where card acceptance might be limited.
✅ Stay cautious and aware: Like any other travel destination, it's important to stay cautious and aware of your surroundings. Keep your belongings secure, avoid isolated or unfamiliar areas, and follow safety guidelines provided by authorities.
✅ Enjoy the journey: Lastly, remember to enjoy the journey itself. Take in the scenic views along the way, interact with locals, and embrace the cultural experiences that unfold during your trip from Delhi to Ajmer.
By following these travel tips and hacks, you can have a memorable and hassle-free journey from Delhi to Ajmer.