About Agra Tour from Delhi
Welcome to the delightful journey from Delhi to Agra with Tyagi Travels, where you can immerse yourself in the rich history, captivating landmarks, and vibrant culture of this enchanting city. Whether you are a history enthusiast, an adventure seeker, or a traveler in search of new experiences, Tyagi Travels' Delhi to Agra trip offers a perfect blend of excitement and exploration.
Let Tyagi Travels be your guide as we take you through the top attractions, transportation options, local dishes, and more, ensuring an unforgettable Delhi to Agra trip.
Route from Delhi to Agra
One of the best route for Delhi to Agra Trip
Delhi – Faridabad – Palwal – Hodal – Mathura – Vrindavan – Agra
Top 10 Things to Do in Agra
Visit the Taj Mahal: Immerse yourself in the grandeur of the Taj Mahal, a UNESCO World Heritage site and one of the Seven Wonders of the World. Marvel at its breathtaking white marble architecture, intricate carvings, and the mesmerizing play of light and shadows. Explore the sprawling gardens, capture stunning photographs, and learn about the captivating love story behind this iconic monument.
Explore Agra Fort: Step back in time as you explore the magnificent Agra Fort, a UNESCO World Heritage site that served as the seat of power for the Mughal emperors. Discover its impressive red sandstone walls, intricate palaces, sprawling courtyards, and captivating architecture. Marvel at the Diwan-i-Am (Hall of Public Audience), Diwan-i-Khas (Hall of Private Audience), and the beautiful Jahangir Mahal.
Wander in Mehtab Bagh: Escape the bustling city and find tranquility in the serene Mehtab Bagh. This picturesque garden complex is located on the banks of the Yamuna River, offering enchanting views of the Taj Mahal. Take a leisurely stroll amidst the manicured lawns, fragrant flowers, and tranquil water features. Capture the Taj Mahal's reflection in the still waters during sunset, creating a truly magical experience.
Discover Fatehpur Sikri: Embark on a day trip to the historic city of Fatehpur Sikri, located just outside of Agra. This UNESCO World Heritage site was once the capital of the Mughal Empire and is now a well-preserved ghost city. Explore the grand Buland Darwaza, marvel at the intricately designed Jama Masjid, and wander through the royal palaces and courtyards. Delve into the fascinating history and architectural brilliance of this abandoned city.
Marvel at Itmad-ud-Daulah: Visit the exquisite tomb of Itmad-ud-Daulah, often referred to as the "Baby Taj." This beautiful marble mausoleum is a hidden gem of Agra and showcases intricate inlay work, delicate marble screens, and Persian-inspired architecture. Admire the detailed craftsmanship and the peaceful ambiance of this lesser-known architectural marvel.
Explore Akbar's Tomb: Pay homage to Emperor Akbar at his grand mausoleum located in Sikandra, just outside of Agra. The tomb is a blend of architectural styles and features intricate carvings, stunning marble work, and a spacious garden complex. Take a leisurely stroll through the lush greenery, admire the grand entrance gate, and learn about the life and legacy of one of India's greatest emperors.
Shop at Sadar Bazaar: Immerse yourself in the vibrant atmosphere of Sadar Bazaar, Agra's bustling local market. Wander through the narrow lanes filled with shops selling handicrafts, textiles, leather goods, jewelry, and souvenirs. Bargain for unique items, interact with friendly shopkeepers, and soak up the lively ambiance of this bustling market.
Taste Mughlai Foods: Indulge your taste buds in the flavors of Mughlai cuisine, a culinary tradition rooted in the Mughal era. Savor aromatic biryanis, succulent kebabs, rich curries, and delectable desserts like the famous Shahi Tukda. Visit local restaurants and street food stalls to experience the authentic flavors and spices that define Mughlai cuisine, leaving you craving for more.
Enjoy a Tonga Ride: Step back in time and take a tonga ride through Agra's streets. Experience the charm of this traditional horse-drawn carriage as you leisurely explore the city. Immerse yourself in the old-world ambiance, admire the architectural wonders, and soak in the vibrant colors of Agra at a relaxed pace.
Witness the Sunset at Mehtab Bagh: End your Agra adventure with a mesmerizing sunset at Mehtab Bagh. Find a peaceful spot in the garden and watch as the sun casts a warm glow over the Taj Mahal. Marvel at the changing hues of the sky reflecting on the monument's white marble. The tranquil setting and enchanting views create a truly magical atmosphere, leaving you with unforgettable memories.
Top Points about Weather and Climate in Agra
Agra experiences a subtropical climate, characterized by hot summers and cool winters. Here's a breakdown of the weather and climate in Agra throughout the year:
✅ Summer (April to June): Summers in Agra are hot and dry, with temperatures ranging from 30°C (86°F) to 45°C (113°F). The weather can be quite scorching, especially during May and June. It is advisable to carry sunscreen, hats, and light, breathable clothing if visiting during this time.
✅ Monsoon (July to September): Agra receives moderate rainfall during the monsoon season. The city experiences intermittent showers, providing relief from the summer heat. The average temperature during this period ranges from 25°C (77°F) to 35°C (95°F). It is recommended to carry an umbrella or raincoat when exploring the city.
✅ Autumn (October to November): Autumn in Agra brings pleasant weather with temperatures ranging from 20°C (68°F) to 30°C (86°F). The humidity levels drop, and the city experiences mild and comfortable temperatures. It is an ideal time to visit Agra as the weather is favorable for outdoor activities and sightseeing.
✅ Winter (December to February): Agra's winters are cold and foggy, with temperatures ranging from 8°C (46°F) to 24°C (75°F). January is the coldest month, and the city can experience dense fog, which may affect visibility. It is advisable to carry warm clothing, especially during the early mornings and evenings.
Transportation Options for Delhi to Agra
✅ Train: Popular and convenient with regular services. Journey time varies based on train type. Check schedules and book in advance.
✅ Bus: Common mode of transportation with government and private operators. Journey duration around 4-5 hours. Cost-effective with various seating options.
✅ Car Rental: Convenient for privacy and flexibility. Rent a car or hire a taxi. Journey takes 3-4 hours, depending on traffic. Negotiate fare or book through a reputable provider.
✅ Self-Drive: Ideal if you have your own vehicle. Route via Yamuna Expressway. Ensure valid license, necessary documents, and plan for toll charges.
You can also use this Map when you going Agra via Bus, Car & Train
Recommended Travel options for Delhi to Agra Tour
Organized tour packages by Tyagi Travels. Get Transportation, Sightseeing, and Guide. Hassle-free way to explore Agra's attractions with a well-planned itinerary.
You can Hire a Tempo Traveller on Rent from Delhi. Tyagi Travels have many options according to People group size.
Contact us today to book your rental vehicle for a memorable trip.
Various Accommodation options available in Agra for Travelers coming from Delhi
✅ Hotels: Agra offers a wide range of hotels catering to different budgets and preferences. From luxury hotels to budget accommodations, there are plenty of options available. Popular areas to stay in Agra include Taj Ganj, Fatehabad Road, and the vicinity of Agra Cantonment Railway Station. It is advisable to book in advance, especially during peak tourist seasons.
✅ Guesthouses and Homestays: For a more personalized experience, you can opt for guesthouses or homestays in Agra. These accommodations provide a homely atmosphere and the opportunity to interact with local hosts. They are often located in residential areas and offer a glimpse into the local culture and lifestyle.
✅ Heritage Hotels: Agra is known for its rich heritage, and staying in a heritage hotel can add a touch of royalty to your experience. These hotels are often converted palaces or historical buildings, offering a blend of modern amenities and a glimpse into the city's history.
✅ Bed and Breakfasts: Bed and breakfast accommodations are a popular choice for travelers seeking a comfortable and cozy stay. These establishments typically offer well-appointed rooms and a delicious breakfast to start your day.
Local Street Food and Cuisine in Agra
When exploring the vibrant city of Agra, don't miss the opportunity to indulge in its rich and flavorful local food and cuisine. Agra offers a culinary experience that combines Mughlai, Awadhi, and Punjabi influences, resulting in a delightful array of dishes.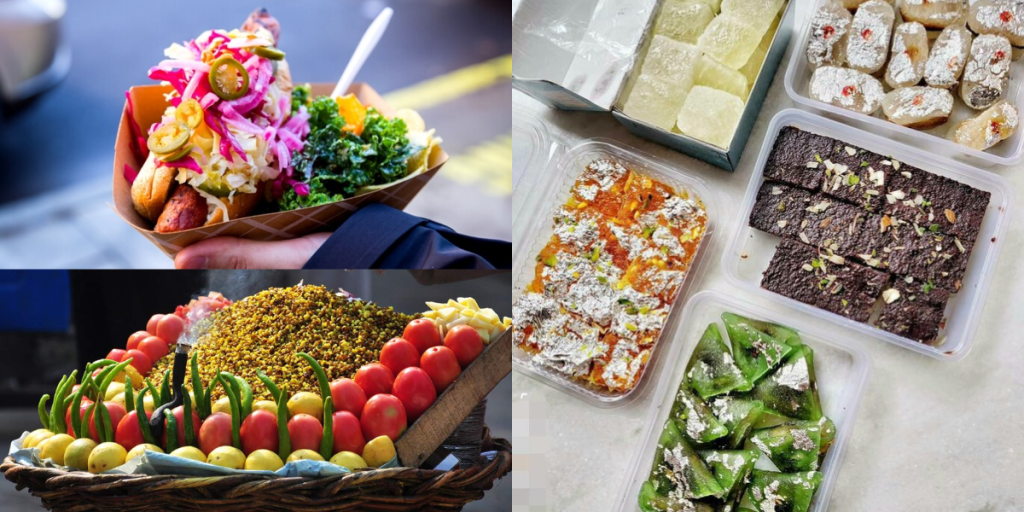 Here are some must-try local specialties in Agra:
✅ Petha: Agra is famous for its sweet treat called Petha. It is made from ash gourd (winter melon) and comes in various flavors like plain, saffron, and fruity varieties. Petha is known for its unique texture and sweetness.
✅ Bedai and Jalebi: Start your day with the popular breakfast combo of Bedai and Jalebi. Bedai is a deep-fried, flaky bread stuffed with a spiced lentil mixture. It is served with crispy and syrup-soaked Jalebi, a spiral-shaped sweet.
✅ Mughlai Cuisine: Experience the flavors of the Mughal era with Mughlai cuisine in Agra. Indulge in succulent kebabs, aromatic biryanis, creamy kormas, and rich gravies that showcase the royal heritage of the city.
✅ Dalmoth: Dalmoth is a savory snack that combines lentils, nuts, spices, and crispy namkeen (savory) strands. It is a popular tea-time snack in Agra and can be enjoyed on its own or paired with a hot cup of tea.
✅ Bhalla: Bhalla is a famous street food in Agra, made from deep-fried lentil dumplings soaked in tangy yogurt and topped with a combination of chutneys and spices. It offers a burst of flavors and textures in every bite.
✅ Mithai (Sweets): Agra is renowned for its wide variety of Indian sweets. From classic favorites like Gulab Jamun and Rasgulla to regional specialties like Balushahi and Gajak, you'll find an extensive range of delectable sweets to satisfy your sweet tooth.
✅ Street Food: Agra's bustling streets are lined with food stalls and vendors offering an array of street food delights. From chaats (savory snacks) like Pani Puri and Aloo Tikki to Kathi Rolls and Kachoris, the street food scene in Agra is a food lover's paradise.
Some Travel Tips and Hacks for Traveling from Delhi to Agra Tour
✅ Plan your trip in advance: It's always a good idea to plan your trip ahead of time. Research the best time to visit, book your accommodation and transportation in advance, and create an itinerary for your stay in Agra.
✅ Choose the right mode of transportation: Consider your preferences and budget when selecting the mode of transportation. Options include trains, buses, car rentals, or self-driving. Each has its own advantages, so choose what suits you best.
✅ Check the weather forecast: Before you travel, check the weather forecast for Agra to ensure you pack appropriate clothing and accessories. This will help you stay comfortable during your visit.
✅ Carry essentials: Some essentials to pack include comfortable walking shoes, sunscreen, a hat, sunglasses, a map or navigation app, a water bottle, and a portable charger for your electronic devices.
✅ Start early: Agra can get crowded with tourists, so it's advisable to start your day early to avoid long queues and enjoy the attractions with fewer crowds.
✅ Respect local customs and traditions: Agra has a rich cultural heritage, so be respectful of the local customs and traditions. Dress modestly when visiting religious sites and show consideration for the local culture.
✅ Stay hydrated and carry snacks: Keep yourself hydrated throughout the day, especially during the hot summer months. Carry a water bottle and some snacks to keep you energized during your exploration of Agra.
✅ Beware of scams: Like any popular tourist destination, Agra may have its share of scams. Be cautious of touts offering unofficial tour guides or selling counterfeit items. Stick to authorized vendors and trusted sources.
✅ Learn basic phrases in the local language: Learning a few basic phrases in Hindi, the local language, can go a long way in communicating with locals and showing your respect for their culture.
✅ Enjoy the journey: Finally, remember to enjoy the journey itself. Take in the scenic views, immerse yourself in the local culture, and create lasting memories of your trip from Delhi to Agra.
These tips and hacks will help make your journey from Delhi to Agra smooth, enjoyable, and memorable. Safe travels!
FAQs about Delhi and Agra Trip
Q: How far is Delhi from Agra?
A. Delhi and Agra are approximately 230 kilometers (143 miles) apart.
Q. What is the best way to travel from Delhi to Agra?
A. The best way to travel from Delhi to Agra is by train, bus, or car. Each mode of transportation offers its own advantages in terms of cost, convenience, and flexibility.
Q. How long does it take to reach Agra from Delhi?
A. The travel time from Delhi to Agra varies depending on the mode of transportation. By train, it takes around 2 to 3 hours, by bus approximately 4 to 5 hours, and by car about 3 to 4 hours, depending on traffic conditions.
Q. What are the must-visit attractions in Agra?
A. The Taj Mahal is the most famous attraction in Agra and a UNESCO World Heritage Site. Other must-visit attractions in Agra include Agra Fort, Itmad-ud-Daulah's Tomb (Baby Taj), Mehtab Bagh, and Fatehpur Sikri.
Q. Is it possible to visit Delhi and Agra in one day?
A. Yes, it is possible to visit Delhi and Agra in one day, but it will be a packed itinerary. A popular option is to take a day trip from Delhi to Agra, visiting the Taj Mahal and other major attractions. However, it is recommended to plan an overnight stay in Agra to fully explore the city.
Q. Are there guided tours available for Delhi and Agra?
A. Yes, there are guided tours available for both Delhi and Agra. Many tour operators offer organized tours that cover the major attractions and provide knowledgeable guides who share interesting insights about the history and culture of the cities.
and Manu Temple.
Q. What is the best time to visit Delhi and Agra?
A. The best time to visit Delhi and Agra is during the winter months, from October to March. The weather is pleasant and suitable for exploring the outdoor attractions. However, do keep in mind that popular tourist sites like the Taj Mahal can be crowded during peak season.
Q. Is it safe to travel from Delhi to Agra?
A. Yes, it is generally safe to travel from Delhi to Agra. However, it is always advisable to take necessary precautions like using reliable transportation, being cautious of your belongings, and following basic safety guidelines.