About Manali Tour from Delhi
Delhi to Manali is a popular travel route that takes you from the bustling capital city of India to the serene and picturesque hill station of Manali in the state of Himachal Pradesh.
The journey covers a distance of around 550 kilometers and offers breathtaking views of the Himalayan mountains, lush green valleys, and gushing rivers.
Manali is a popular destination for adventure seekers, honeymooners, families, and solo travelers alike, offering a range of activities such as trekking, skiing, paragliding, river rafting, and more.
With numerous accommodation options, local food, and shopping, a trip from Delhi to Manali promises to be an unforgettable experience.
Route from Delhi to Manali
Delhi – Ambala – Chandigarh – Bilaspur – Mandi – Kullu – Manali.
Delhi – Panipat – Karnal – Ambala – Chandigarh – Rupnagar – Bilaspur – Mandi – Kullu – Manali.
Delhi – Jaipur – Udaipur – Ahmedabad – Mumbai – Pune – Belgaum – Hubli – Davangere – Chitradurga – Tumkur – Bangalore – Chennai – Vijayawada – Kolkata – Siliguri – Darjeeling – Kalimpong – Gangtok – Lachung – Yumthang – Gurudongmar – Chungthang – Panipat – Ambala – Chandigarh – Bilaspur – Mandi – Kullu – Manali.
Top Tourist Attractions in Manali
Beas River
Experience the thrill of water rafting on the Beas River in Kullu. Enjoy the scenic beauty as you navigate the rapids and immerse yourself in an exciting adventure.
Hidimba Devi Temple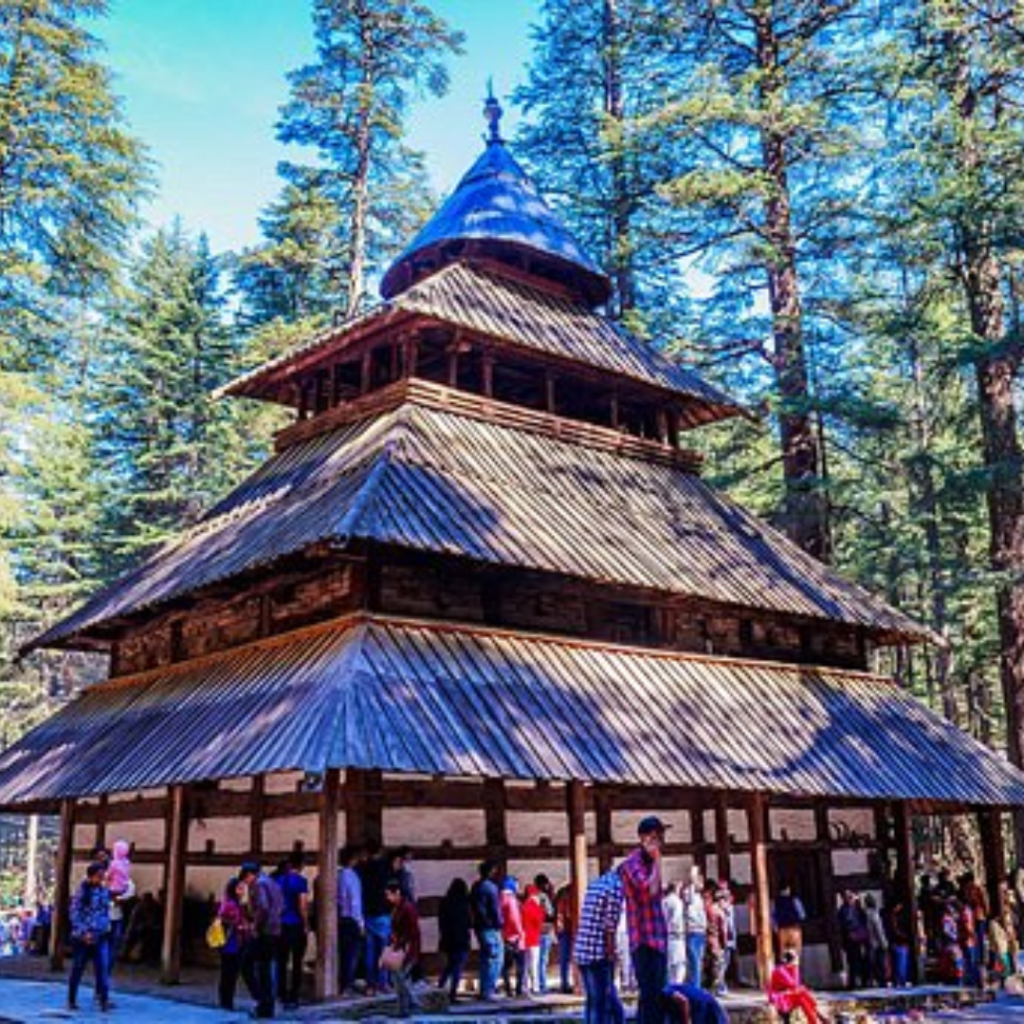 Discover the tranquil surroundings of the Hidimba Devi Temple in Manali. Surrounded by lush greenery and tall trees, this picturesque temple offers a serene and spiritual experience.
Solang Valley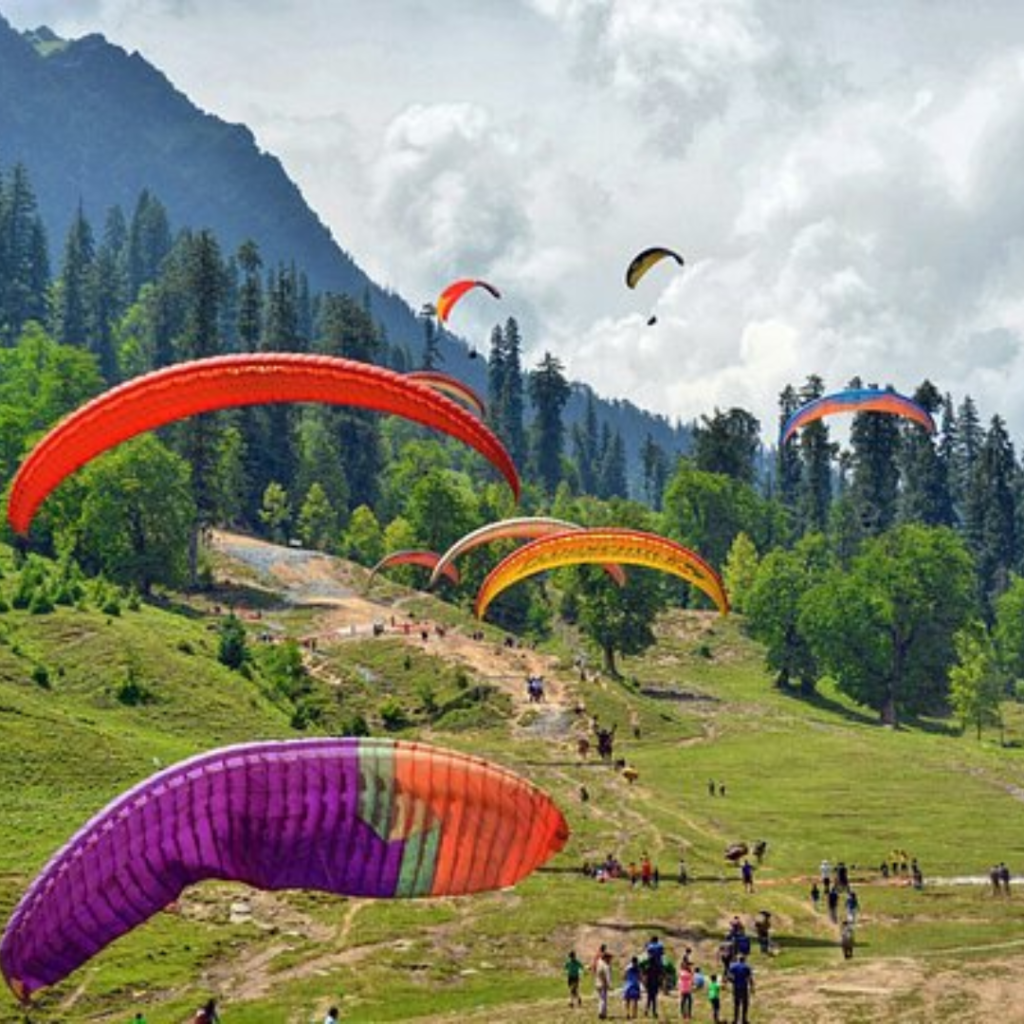 Explore the stunning Solang Valley, known for its breathtaking beauty and adventure activities. Take a cable car ride to the top of the mountain and enjoy panoramic views of the valley below.
Manikaran Gurudwara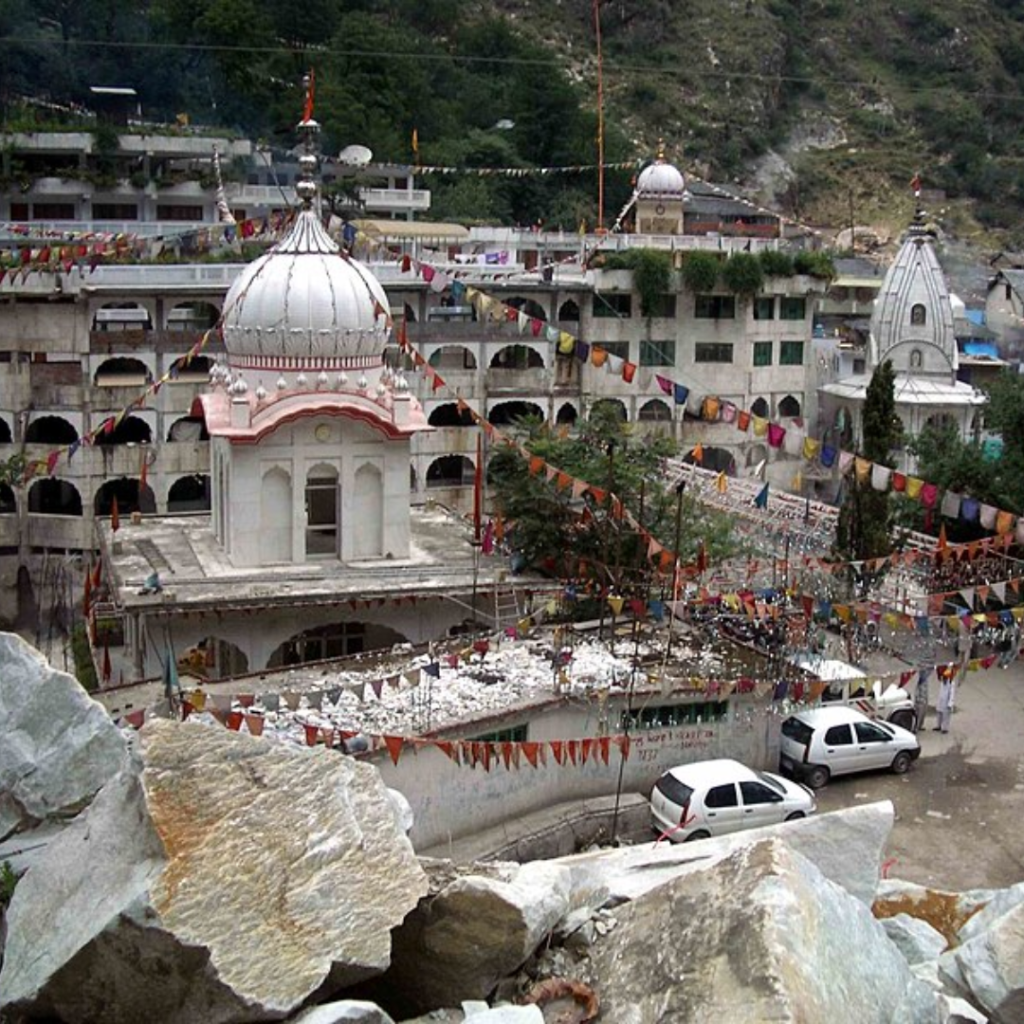 Visit the Manikaran Gurudwara, a place of religious significance known for its hot springs. Experience the spiritual atmosphere and witness the unique phenomenon of cooking rice in the hot water of the springs.
Jogini Waterfall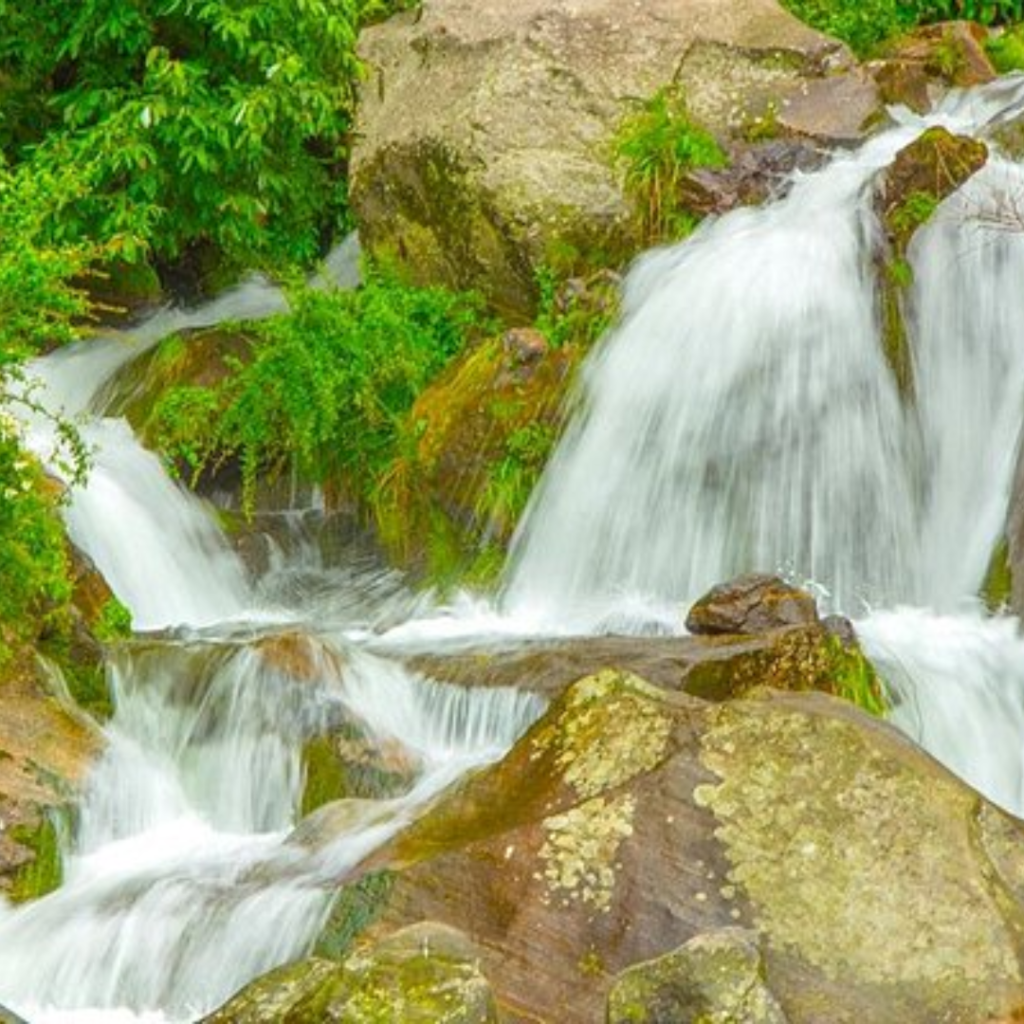 Embark on a small trek to Jogini Waterfall in Manali, which rewards you with mesmerizing views. Although the climb may be a bit challenging, the beauty of the waterfall makes it all worthwhile.
Top 10 Things to Do in Manali
Visit Rohtang Pass – Take a scenic drive to the breathtaking Rohtang Pass and enjoy panoramic views of the surrounding mountains.
Trek to Beas Kund – Trek to the source of the Beas River and witness the stunning alpine scenery.
Experience adventure sports – Try your hand at skiing, paragliding, ziplining, and other thrilling activities.
Visit Hadimba Temple – A popular tourist spot, Hadimba Temple is dedicated to the wife of Bhima and is known for its unique architecture.
Explore Old Manali – Take a walk through the quaint streets of Old Manali and soak in the laid-back atmosphere.
Take a dip in hot springs – Relax in the natural hot springs of Vashisht and rejuvenate your mind and body.
Go river rafting – Experience the thrill of river rafting in the Beas River.
Visit Solang Valley – Known for its adventure sports and picturesque views, Solang Valley is a must-visit spot.
Shop at the Mall Road – Shop for souvenirs, clothes, and other items at the popular Mall Road in Manali.
Indulge in local cuisine – Treat your taste buds to the local delicacies of Manali, including momos, thukpa, and siddu.
Top Points about Weather and Climate in Manali
Manali has a temperate climate, with warm summers and cold winters.
The best time to visit Manali is from March to June, and from September to November.
Summers (March to June) are pleasant, with temperatures ranging from 10°C to 25°C.
Monsoons (July to August) bring heavy rainfall and landslides, making it difficult to travel.
Winters (December to February) are cold, with temperatures ranging from -7°C to 10°C.
Snowfall is common in Manali during winters, especially from December to January.
The Rohtang Pass is closed during winter months due to heavy snowfall.
It is important to pack warm clothes during winters and raincoats during monsoons.
Always check the weather forecast before planning a trip to Manali.
Manali's weather and climate offer a unique experience to visitors, with each season showcasing a different aspect of its natural beauty.
Transportation Options for Delhi to Manali
Bus: Many private and government-run buses operate on this route, with varying levels of comfort and cost. The journey takes around 12-14 hours, depending on traffic and road conditions.
Car: Hiring a car or driving your own vehicle is another option, which gives you the flexibility to stop at scenic places along the way. The journey takes around 10-12 hours, depending on the route taken.
Train: The nearest railway station to Manali is Joginder Nagar, which is around 150 km from Manali. From Delhi, you can take a train to Chandigarh or Ambala and then hire a taxi or take a bus to reach Manali. However, the train journey can be quite long and time-consuming.
You can also use this Map when you going via Bus, Car & Train
Recommended Travel options for Delhi to Manali Trip
For a comfortable and hassle-free journey from Delhi to Manali, we recommend Hire Tempo Traveller Rental Services. We offer a range of options to suit your travel needs, from 9 Seater Tempo Traveller to 26 Seater Tempo Traveller and even a caravan tempo traveller.
Our well-maintained and air-conditioned vehicles come with experienced drivers who know the route well and ensure your safety and comfort throughout the journey.
We also provide Outstation Cab Services and you can Hire Innova Crysta for your trip.
With our services, you can sit back, relax, and enjoy the scenic beauty of Manali without worrying about the hassle of driving.
Contact us today to book your rental vehicle for a memorable trip.
Various Accommodation options available in Manali for Travelers coming from Delhi
Hotels: There are numerous hotels in Manali that offer a comfortable stay to travelers. These hotels range from budget-friendly to luxury hotels with various amenities.
Guesthouses: Guesthouses or homestays are another popular accommodation option in Manali. These are budget-friendly and offer a homely experience to travelers.
Resorts: Manali also has several resorts that offer a luxurious stay to travelers. These resorts usually have various amenities like swimming pools, spas, and restaurants.
Campsites: For adventure enthusiasts, there are several campsites in and around Manali that offer a unique and thrilling experience.
Hostels: Hostels are another affordable accommodation option in Manali, especially for solo travelers or backpackers. These hostels usually have shared dormitories and private rooms.
Local Food and Cuisine in Manali
Manali is known for its delicious local cuisine, which features a blend of Tibetan, Punjabi, and Himachali flavors.
Some popular dishes to try during your trip include:
Siddu: A steamed bread made with wheat flour and stuffed with a mixture of mashed potatoes and spices.
Dham: A traditional Himachali platter that consists of rice, rajma (kidney beans), madra (chickpeas in yogurt gravy), and sweet boondi.
Trout: Freshly caught trout fish served with a side of rice or potatoes.
Momos: Steamed or fried dumplings stuffed with vegetables or meat.
Chha Gosht: A spicy lamb curry cooked with yogurt and served with rice or naan.
Thukpa: A hot noodle soup with vegetables or meat, perfect for the chilly weather in Manali.
Bhey: A dish made with lotus stems, potatoes, and yogurt, flavored with spices like cinnamon and cardamom.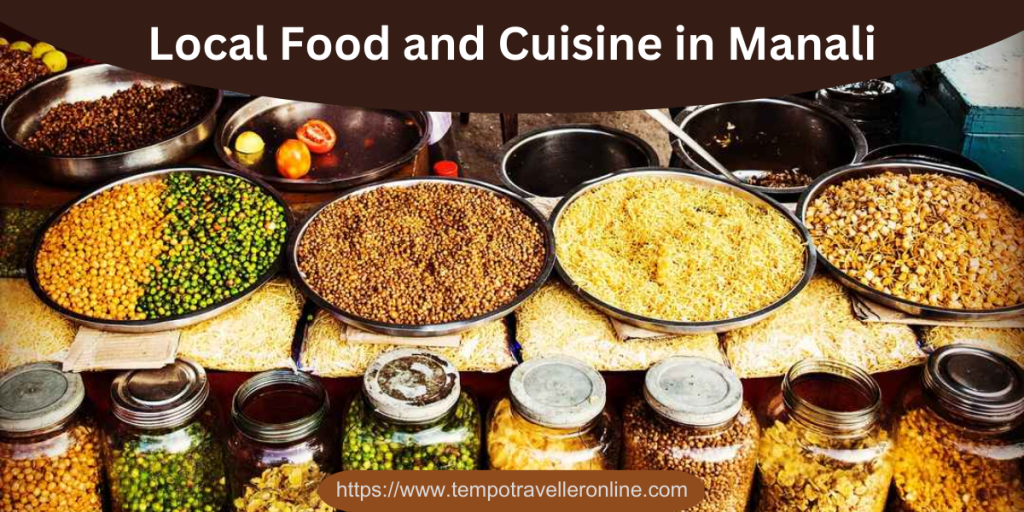 Some Travel Tips and Hacks for Traveling from Delhi to Manali
Plan your Trip in Advance: Make sure to plan your trip well in advance, especially if you're traveling during peak season. This will ensure that you can secure your preferred mode of transportation and accommodations.
Check the Weather: Manali can experience heavy snowfall during the winter months, which can make traveling difficult. Check the weather forecast before you start your journey and plan accordingly.
Carry warm Clothing: Manali can get quite chilly, even during the summer months. Make sure to carry warm clothing, especially if you're traveling during the winter season.
Choose the right mode of Transportation: Depending on your budget and preferences, you can choose to travel to Manali by bus, car, or train. Make sure to research the pros and cons of each mode of transportation and choose the one that suits your needs.
Take breaks during your journey: If you're traveling by car or bus, make sure to take frequent breaks during your journey. This will help you stay fresh and alert and avoid fatigue.
Carry Snacks and Water: It's a good idea to carry some snacks and water with you, especially if you're traveling by bus or car. This will help you stay hydrated and avoid hunger pangs during the journey.
Stay Safe: Manali is generally a safe place to travel, but it's always a good idea to take basic safety precautions. Avoid traveling alone at night, especially in remote areas. Be aware of your surroundings and keep your valuables safe.
Respect local customs and Traditions: Manali has a rich cultural heritage, and it's important to respect local customs and traditions. Dress modestly, especially when visiting religious sites. Avoid littering and help keep the environment clean.
By keeping these tips in mind, you can ensure a safe and enjoyable journey from Delhi to Manali.
FAQs about Delhi and Manali Trip
Q. What is the distance between Delhi and Manali?
A. The distance between Delhi and Manali is approximately 540 kilometers.
Q. How can I reach Manali from Delhi?
A. You can reach Manali from Delhi by bus, car, or train. There are also flights available from Delhi to Kullu.
Q. What are the popular tour packages for Manali from Delhi?
A. Some popular tour packages for Manali from Delhi include Shimla-Manali tour package, Kullu-Manali tour package, and Manali tour packages for family.
Q. What is the budget for a Manali trip from Delhi?
A. The budget for a Manali trip from Delhi varies depending on factors such as mode of transportation, accommodation, and activities. However, there are several budget-friendly options available for travelers.
Q. What is the cheapest way to reach Manali from Delhi?
A. The cheapest way to reach Manali from Delhi is by bus.
Q. What are the popular places to visit in Manali?
A. Some popular places to visit in Manali include Solang Valley, Rohtang Pass, Hadimba Temple, and Manu Temple.